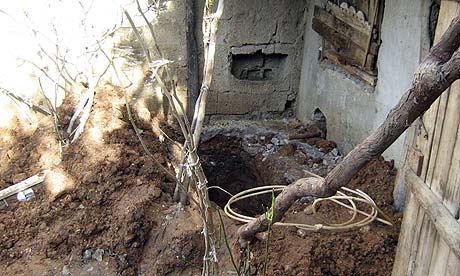 Robert Tait, Turkish Girl, 16, Buried Alive for Talking to Boys:
Turkish police have recovered the body of a 16-year-old girl they say was buried alive by relatives in an "honour" killing carried out as punishment for talking to boys. The girl, who has been identified only by the initials MM, was found in a sitting position with her hands tied, in a two-metre hole dug under a chicken pen outside her home in Kahta, in the south-eastern province of Adiyaman. […] A postmortem examination revealed large amounts of soil in her lungs and stomach, indicating that she had been alive and conscious while being buried. Her body showed no signs of bruising.  The discovery will reopen the emotive debate in Turkey about "honour" killings, which are particularly prevalent in the impoverished south-east.  Official figures have indicated that more than 200 such killings take place each year, accounting for around half of all murders in Turkey.
Radio Netherlands Worldwide, Anti-Islam Book Launch Cancelled:
The book launch was scheduled for Thursday at The World Forum, but was cancelled because the director of the venue does not believe he can guarantee the safety of his guests. The book in question is Islamofobie? (Islamophobia?), written by Islam critic and PVV supporter Frans Groenendijk. The PVV, or Freedom Party is an anti-Islamic opposition party led by Geert Wilders. Green Left party member Tofik Dibi, who was to receive the first book at the launch, says he regrets that the conference centre acted out of fear.
Mahmood Delkhasteh, Rapists in Iran's regime:
Sexual assault against men and women is being systematically used in Iran in an attempt to stifle opposition.
Justin Penrose, Rapist Jamaile Morally in Boiling Oil Jail Attack:
A jailed killer poured boiling oil over another inmate because he refused to convert to Islam. Jamaile Morally, 26 – sentenced to life as part of a gang that raped, tortured and murdered a teenage girl and left another for dead – led two other inmates in carrying out the attack.
Australian Broadcasting Corporation, Burqa-Clad Robbers Hold Up Post Office:
Two burqa-wearing robbers have held up a French post office using a handgun concealed beneath an Islamic-style full veil, court officials said.
All articles continue at links.  Part of a series that never ends… [1][2][3][4][5][6][7][8][9][10][11] and etc.  What sort of emotive debate can occur about honor killings?  I fail to see it as an issue with two valid perspectives which can come into harmony through compromise.  I am similarly too morally stunted to support the trial of Geert Wilders for – killing children?  Islamic theocracy-backed rape tortures? Prostelytising with boiling oil?  Robbing a bank?  No, Geert Wilders is on trial for making a film.  Maybe Wilders is lucky – some filmmakers who were critics of Islam in the Netherlands didn't get to go to trial.  Violence and threats of violence to filmmakers and book authors, multicultural understanding for pedophiles and murderers.  That's what Islam brings to the table in the 21st Century.  What do you bring?